Why Invest in Kansas City?
Kansas City Real Estate Investing
Why is Kansas City Real Estate Investing so popular with so many investors; both inside and outside of the United States? Why do investors keep coming back to Kansas City to build their real estate portfolios? In general, it has to do with Kansas City's stable economy, its central location, and its affordable living.
To learn more about Kansas City Real Estate Investing, keep reading…
The Heart of America
The following Kansas City market overview was created to give real estate investors a general understanding of what makes Kansas City such a good place to invest in real estate. Statistical data used in this overview was compiled from 2014 census data.
The Greater Kansas City metropolitan area is known as "The Heart of America," prospering from a diverse economy and highly educated work force. Kansas City is an inviting area with a superb quality of life and sense of community which permeates the population of over two million. The area's economy is recognized as one of the strongest and most diverse of midsize major cities in the United States, and its central location with easy access and superb infrastructure makes Kansas City a true leader in transportation. Kansas City is also a hotbed of entrepreneurial and small business activity with 99% of all local companies employing fewer than 250 people.
Quick Demographics
2014 estimates

| | | | |
| --- | --- | --- | --- |
| Metro Population | 2 Million | Median Home Price | $160,000 |
| Annual Per Household Income | $53,500 | Average Age | 36.1 |
| Per Capita Income | $27,650 | Residents with High School Education | 90.2% |
Kansas City Companies
Although the area is home to several large corporations, Kansas City is not dependent on a few businesses or a specific industry to fuel its economy. The diversity is illustrated among large employers such as Ford Motor Company andHallmark Cards (manufacturing), HCA Midwest and Saint Luke's Health System(service), and Sprint Nextel (high-tech, telecom). The largest local healthcare provider, HCA has provided an infusion of $1.6 billion into the local economy and made Kansas City its own division, one of only twelve in the HCA system. Another contributor to Kansas City's stable economy is the federal government's significant presence, which provides more than 30,000 local jobs.
In November of 2014, Cerner Corp (high-tech, software) broke ground on their new, $4.45 billion, south Kansas City campus.  The campus is intended to house 16,000 new Cerner workers within the decade.
In March of 2011 Kansas City, KS was chosen by Google to be the first city to receive Google Fiber. By May of 2011, the service was also offered in Kansas City, MO. The gigabit internet service has been the catalyst for high-tech startups in and around Kansas City.
Kansas City Education
Kansas City boasts a highly educated labor force of more than one million people. Approximately 32% of the metro area population has a four-year degree, which is 5% higher than the national average. The region's most concentrated educated workforce is in Johnson County, where 50% of adults over the age of 25 have at least a four year college degree. Each year, the Kansas City job market is a magnet for more than 100,000 college graduates from regional colleges and universities. The area's information technology workforce numbers more than 34,000 and area universities and colleges produce more than 1,000 IT graduates each year. Kansas City is also a regional hub of the U.S. federal government.
Central Location
Located at the confluence of the Kansas and Missouri Rivers on the Midwestern Plains, Kansas City is truly "The Heart of America." The Kansas City Metropolitan Area comprises 15 counties, six in the State of Kansas and nine in the State of Missouri, and covers 7,908 square miles – a land area approximately equal to that of the State of Massachusetts. The city's location in the middle of the country and the fact that it is the only major city west of St. Louis and east of Denver, allows it to attract a constant influx of visitors from a host of small communities in surrounding states. Kansas City is reachable within four hours by over 8.3 million people in the surrounding states of Kansas, Missouri, Iowa, Illinois, Nebraska, Arkansas and Oklahoma.
Transportation
Kansas City Real Estate Investing wouldn't be attractive if there wasn't a strong system of transportation in place.  Lucky for us, we have that covered!
Air
The metropolitan area is served by 10 major commercial airlines and their connection partners. These carriers offer approximately 200 daily departures, with nonstop service to over 50 destinations.
The presence of low-cost, low-fare airlines, as well as most of the full-service majors, keeps competition up and airfares down. Kansas City enjoys one of the lowest-cost air travel markets in the country. Travelers experience fewer delays at Kansas City International Airport than most major airports.
According to J.D. Power & Associates, Kansas City International (MCI) ranks highest among medium sized airports, and performs particularly well in airport accessibility, check-in/baggage check and security check.
In 2004, Kansas City International Airport completed one of the biggest capital projects in the airport's history. A $258 million "Terminal Improvement Project" renovated all three terminals and added new shops, updated flight information displays, and updated HVAC system, new baggage claim devices, user-friendly ground transportation kiosks, a wireless network and captivating terrazzo floors throughout.
Highway
Highways Serving The Metro
4 interstates (I-70, I-49, I-35, I-29)
4 interstate linkages (I-435, I-635, I-470, I-670)
9 federal highways
Public Transit: Kansas City Area Transportation Authority
— The Metro; Johnson County Transit — The Jo; and Unified Government Transit — The Bus. The three transit organizations maintain integrated routes and services across the bi-state metro and participate with the Mid-America Regional Council in the region's SmartMoves transit planning effort.
Rail
Kansas City is generally regarded to be the second largest rail center in the U.S. and ranked first by freight volume. Four of eight Class I rail carriers, three regional lines, and a local switching carrier (Kansas City Terminal) serve the area. Amtrak passenger trains serve the city four times per day.
Barge
Kansas City adjoins the Missouri River's Corps of Engineers managed shipping channel, which runs from St. Louis, Missouri to Sioux City, Iowa.
KC Street Car
New for 2016 is the KC Streetcar.  Running from the River Market on the north end to Union Station and Crown Center on the south, KC Streetcar connects all the downtown neighborhoods with 16 platform stops and 2 miles of track. Shop local produce, couture, antiques and KC memorabilia; drop the commute between work and home; enjoy the culture of art galleries, events, concerts and plays; satisfy your hunger/thirst/cravings with a variety of culinary offerings … it's all part of a normal day in downtown Kansas City!
Kansas City Attractions
A Kansas City tradition since 1899, features livestock shows, rodeo, concerts, and an annual parade capped off by the world's largest barbeque contest.
The Nelson-Atkins opened in 1933 and its newest addition, the Block building, ranked No. 1 in Time Magazine's architectural marvels in 2007.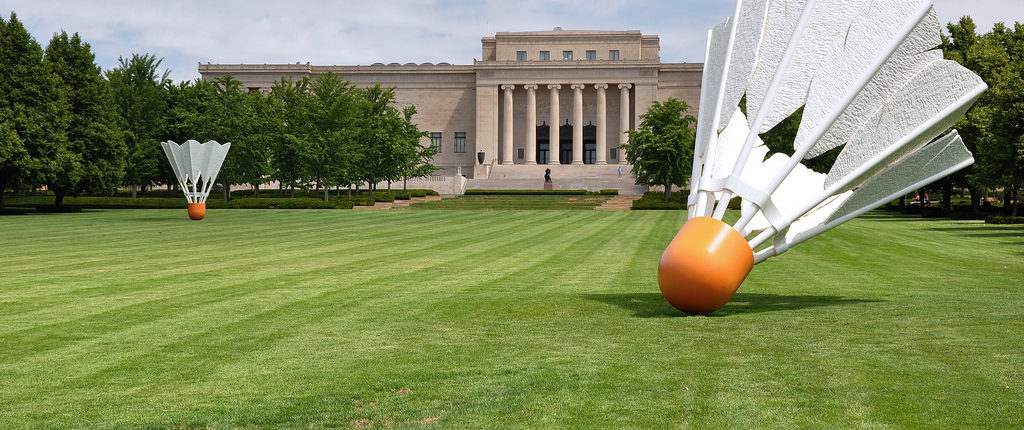 Nelson Atkins Museum[/caption]
A top ten theme hotel according to Go Magazine (AirTran Airways' inflight magazine). Perfect for a romantic getaway or special occasion, guests can pick from 62 rooms featuring various themes from Jesse James to Roman Holiday.
Located in the Sprint Center, this 41,500 square foot building features the National Collegiate Basketball Hall of Fame.
At the Kansas City Zoo, you can travel the world without even leaving the gates. The Discovery Barn opened in summer 2006 and The Sprint IMAX Theatre with its six story tall screen and 12,000 watts of digital sound makes everyone feel a part of the action.
The National World War I Museum is the first and only American museum solely dedicated to preserving the objects, history and personal experiences of World War I.
Kauffman Center for the Performing Arts
Opened in September of 2012, the Kauffman Center for the Performing Arts is a visually stunning building that is home to the Kansas City Ballet and the Kansas City Symphony.
The Country Club Plaza was the first shopping center in the world designed to accommodate shoppers arriving by automobile. The 55 acre site is home to many upscale restaurants and shops.
More than 450,000 square feet of restaurants, clubs, retail and office space in downtown Kansas City makes this the largest entertainment district in the Midwest.
Kansas City's new home for major concerts and sporting events was ranked No. 30 among the world's top 100 arena venues and No. 14 among the United States' arenas by Pollstar Magazine.
Worlds of Fun and Oceans of Fun
Enjoy one park at a time or go back and forth between land and water rides. Features the Patriot—the longest and tallest inverted roller coaster in the region. Worlds of Fun is open April to October, and Oceans of Fun is open May through September.