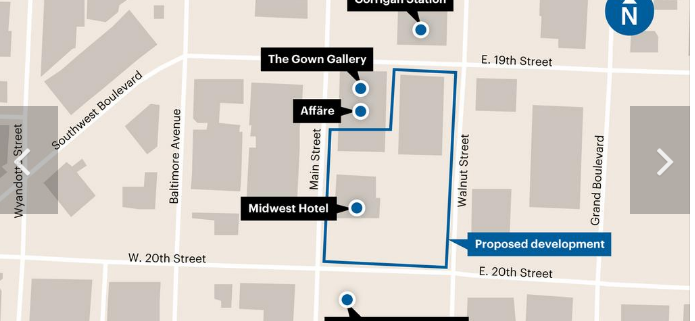 Originally posted by Rob Roberts of the Kansas City Business Journal
Jonathan Holtzman, a Detroit-area developer who formed the partnership planning a $71.5 million project in the Crossroads Arts District, said it will include a mix of apartments, retail uses and construction styles that's unprecedented in the city.
Holzman, CEO of City Club Apartments LLC, formed City Club Apartments Crossroads LLC to develop a site that includes everything between 19th, 20th, Walnut and Main streets (except for the two buildings at the northwest corner of the block that house The Gown Gallery and Affäre).
The partnership also includes other City Club Apartments executives and investors and Wit Solberg, founding partner of Mission Peak Capital. That firm is headquartered across the street from the new development site in a building at 1908 Main St., where Tom Pendergast served as a Kansas City political boss during the 1920s and '30s.
During an interview on Monday, Holtzman said Solberg did "a masterful job in assembling all this land and the buildings (contained within the development site) over a period of time." Solberg said it also took significant efforts for him to "find a (development) partner to do this the 'right way,' which is a lost art."
"We intend to deliver a type of mixed-use urban project with a level of amenities, services and green technology that you currently don't have in Kansas City," said Holtzman, who's been involved in real estate development for 40 years.
In launching City Club Apartments last year, Holtzman said his plan was to disrupt and transform the luxury urban apartment industry by "combining the service and amenities of the very best five-star hotel with luxury urban apartment living. The design of our communities will be stunning."
But the new Kansas City project won't be designed exclusively for the wealthy. It will include units for all ages and price ranges, said Holtzman, who contends that "nobody is addressing the changing demographic and economic needs of the baby boomers or the millennials."
"We have our finger on the pulse of those trends, and we are going to deliver engaging communities that both serve those needs and exceed expectations," he said.
Housing multiple generations
The City Club Apartments Crossroads project will include 293 apartments, about 15,000 square feet of restaurant and retail space, and two levels of underground parking.
"I would say that, as a company, we create a larger range (of apartment sizes and rents) than any of our competitors," Holtzman said. "We like the idea of having an incredible range — small, medium and large apartments, apartments that have dens, that are duplexes and townhouses, and that have different kinds of finishes. We find that the typical apartment developer has one- and two-bedroom units with finishes that are all the same."
Holtzman said as much as 10 percent of the City Club Crossroads units will be affordable for "teachers, firemen, policemen and people with four-year college degrees and student loans who are starting jobs."
Kansas City's Planned Industrial Expansion Authority, the agency through which Holtzman's partnership is seeking a property tax abatement for the project, encourages the development of affordable, or workforce, housing.
"But we're going to make rents affordable in a proactive way," Holtzman said. "We're not going wait for the city to mandate it. We're going to say: 'No, we want to do that. That's part of our submission.'"
Appealing to different lifestyles
On one end of the age spectrum, he said, the project will appeal to millennials, including those without cars who will rent small apartments and use the Main Street streetcar line and other mass transit.
"You will also have Gen X and Gen Y residents who are putting off marriage, children and ownership; they could have a medium-size apartment," Holtzman said. "And you will have baby boomers who would like a penthouse or larger apartment."
Read the full article here…
Contact ORENDA Real Estate Services
For more information on the Kansas City Real Estate Market, or to learn more about how you can increase the value of your investment property, contact us today by calling (816) 355-4242 or CLICK HERE to connect with us online.
https://orendarealestate.com/wp-content/uploads/2016/11/City-Club-Apartments-Redevelopment-Proposal.png
403
695
Chris Dawson
https://orendarealestate.com/wp-content/uploads/2016/08/000329-Orenda-Real-Estate-Services-Logo-FINAL-colour_png_S-300x215.png
Chris Dawson
2016-11-01 16:09:09
2016-11-01 16:09:09
City Club Apartments CEO: $72M project will disrupt KC luxury market