Originally posted by Rob Roberts of the Kansas City Business Journal
Greg Kindle, president of the Wyandotte Economic Development Council, remembers showing the 130-acre site near Riverview Avenue and the Turner Diagonal three years ago.
Macy's was looking at the site, which Kindle described as "billy goat terrain," for a distribution center. But the facility's 1.3 million-square-foot footprint would have required Macy's to jump through hoops to win federal permission to move a streamway, Kindle said, "and that killed the deal."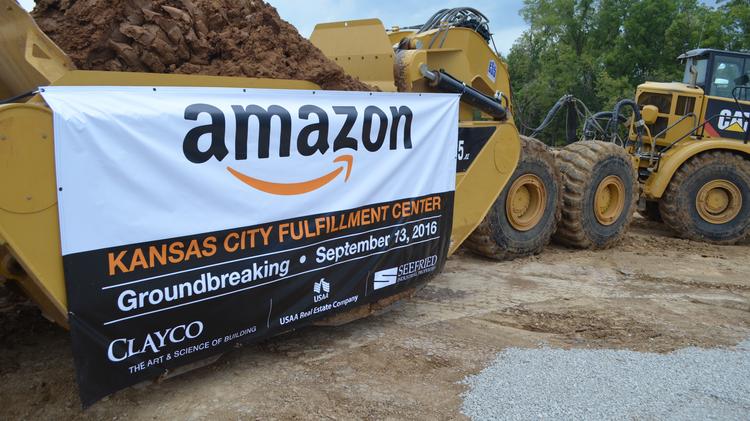 Macy's ended up selecting a site outside of Tulsa for its distribution center, he added Tuesday, "but sometimes a loss is a gain."
Kindle was attending groundbreaking ceremonies for the new Amazon.com fulfillment center, which will bring more jobs and more capital investment to the Kansas City, Kan., site than the Macy's facility would have. It is also more likely to keep growing than Macy's distribution facilities, which have been impacted by dozens of store closings in recent years.
Jonathan Stites of Atlanta-based Seefried Industrial Properties, a joint-venture partner with San Antonio-based USAA Real Estate Co. in the development of the new Amazon facility, said it will have a footprint of 856,000 square feet. But a mezzanine level will increase the facility's usable space to 2.3 million square feet.
Chicago-based Clayco is building the facility, which is expected to employ more than 1,000 when it opens next year.
"Amazon will become our fourth-largest employer Day One, when they open," said Mark Holland, mayor and CEO of the Unified Government of Wyandotte County/Kansas City, Kan.
At that point, the online retail giant will be behind Wyandotte County's top three employers: the University of Kansas Hospital and Medical Center, General Motors and Cerner Corp. But it could move up a spot or two as employment eventually is expected to reach 3,500 at the fulfillment center.
Brent Miles, vice president of economic development for NorthPoint Development, attended Tuesday's groundbreaking and reflected on his firm's efforts to prepare the site for Amazon.
NorthPoint, which ended up moving 938,000 cubic yards of dirt on the site, had purchased it with the intention of developing Turner Commerce Center, a three-building industrial park totaling about 1 million square feet, over a 10-year period.
read the full article here…
Contact ORENDA Real Estate Services
For more information on the Kansas City Real Estate Market, or to learn more about how you can increase the value of your investment property, contact us today by calling (816) 355-4242 or CLICK HERE to connect with us online.
https://orendarealestate.com/wp-content/uploads/2016/09/amazon-logo.jpg
674
1200
orendarealestate
https://orendarealestate.com/wp-content/uploads/2016/08/000329-Orenda-Real-Estate-Services-Logo-FINAL-colour_png_S-300x215.png
orendarealestate
2016-09-16 11:40:05
2016-09-14 13:13:45
Amazon breaks ground on $300M Kansas City Kansas facility