Originally posted by Rob Roberts of the Kansas City Business Journal
Starting Sept. 15, residents of Kansas City and Jackson County will be able to make energy improvements to their homes with nothing down and pay for them over time through their property tax bills.
The green financing alternative, called the Home Energy Renovation Opportunity (HERO) Program, is being extended to participating Missouri cities and counties by San Diego-based Renovate America Inc. It is the largest provider of residential financing through the Property Assessed Clean Energy (PACE) Program — a public-private means of financing energy-efficiency upgrades that originated in California in 2008 and has spread to 30 states.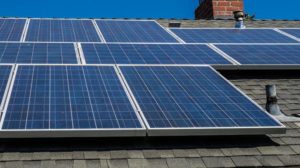 Since 2011, Renovate America has provided HERO PACE financing in California for $1.75 billion worth of improvements to more than 70,000 homes, said Greg Frost, the company's national communications director.
The fixed interest rates offered through the program range from 6.9 percent to 8.9 percent, depending on the length of financing, which can vary from five to 20 years, said John Maslowski, Renovate America's vice president of market development for Missouri.
That's far less than homeowners would pay to finance new HVAC systems, solar panels or other energy improvements via credit cards, Frost said.
The HERO rates may be slightly higher than homeowners would pay with a home equity line of credit. But Frost added that home equity lines don't offer the consumer protections that have been built into the HERO loans. They include requiring participating contractors to meet pricing and performance standards. In addition, Renovate America won't pay a contractor until the homeowner signs off on the work.
Maslowski said more than 40 contractors in Kansas City and Jackson County already had registered to participate in the HERO program
Other advantages the program holds over conventional financing, Frost said, include its 100 percent financing and absence of credit-score requirements, though homeowners do have to have at least 10 percent equity in their homes and be current on their mortgage and taxes to participate.
The HERO program also addresses a quality problem that conventional financing products have not solved, he said. Each year, one in six homeowners replaces a system in the home that affects energy consumption. Three-quarters of the time, they choose a less efficient option based on upfront sticker price, instead of factoring in the total cost of owning and maintaining the product or system during the course of its useful life.
The HERO program finances only efficient solutions, Frost said, so it converts the moment when a homeowner needs to replace or upgrade a failing system into an opportunity to upgrade a community's housing stock.
Funding for local HERO program improvements will come from the sale of limited obligation bonds by the Missouri Clean Energy District (MCED), a statewide political subdivision established in 2011. Renovate America, which the MCED has selected as its exclusive operating and finance partner, will buy 100 percent of the bonds and securitize them as part of the process of making HERO financing available to homeowners.
Although the program is provided at no cost to taxpayers, Maslowski said, cities and counties must pass resolutions to make residents in their jurisdictions eligible for the financing.
Maslowski said residential PACE lending might have spread beyond California years earlier. But an unanticipated barrier was encountered in 2010, when the Federal Housing Finance Agency, the receiver for mortgage giants Freddy Mac and Fannie Mae, deemed PACE loans to be a threat to its first-mortgage lien positions.
FHFA subsequently prohibited Fannie Mae and Freddie Mac from buying mortgages with first-lien PACE loans attached to them. The decision prompted the MCED to establish a commercial-only funding program until the issue could be resolved. That happened last year, when the FHFA provided guidance on the issue, and Renovate America offered to contractually subordinate PACE loans to the first mortgage holder.
Read the full article here…
Contact Orenda Real Estate Services
For more information on the Kansas City Real Estate Market, or to learn more about how you can increase the value of your investment property, contact us today by calling (816) 355-4242 or CLICK HERE to connect with us online.
https://orendarealestate.com/wp-content/uploads/2016/09/Builder-handyman-with-construc-.jpg
2850
5808
Chris Dawson
https://orendarealestate.com/wp-content/uploads/2016/08/000329-Orenda-Real-Estate-Services-Logo-FINAL-colour_png_S-300x215.png
Chris Dawson
2016-09-12 10:04:40
2016-09-11 13:15:14
Green home improvement financing comes to KC