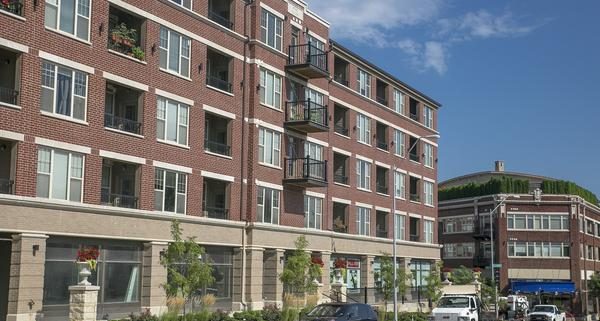 Originally posted by Rob Roberts – Reporter for the Kansas City Business Journal
Developer Bob Frye, who has been working for three decades on redevelopment of the 16-block Union Hill neighborhood, is preparing to complete the project's final phase.
The last two apartment buildings in the Union Hill Founders Phase II— the 23-unit Campbell Building at 3000 Gillham Road and the 56-unit McCoy Building at 3020 Gillham Road — both will be completed by around October.
That's about when Cafe Europa, the popular restaurant in the Crestwood Shops, will be opening its second location in 3,100 square feet on the ground floor of another Union Hill Founders Phase apartment building, the 56-unit McGee Building at 2980 Gillham Road.
One reason apartment residents have been flocking to Union Hill, Frye said, is that it is part of an eclectic neighborhood that includes the popular Filling Station coffee shop across the street from the new Founders Phase buildings and a variety of restaurants and bars, including several in the nearby Martini Corner district.
Frye, as much as anyone else, is responsible for rebuilding the historic neighborhood, having worked on redevelopment there since 1987.
Starting out with some high-power partners — Hallmark Cards Inc., DST Systems Inc. Stephen Block and attorney Jim Bowers — Frye was originally focused on single-family and townhome projects.
But 18 years ago, Frye, without his previous Union Hill partners, began embarking on apartment and apartment-over-retail development in the neighborhood. With the completion of the Campbell and McCoy buildings, he said, he will have developed about 600 apartment units in Union Hill.
The already completed units boast 98 percent occupancy and account for a large percentage of the more than 1,000 new residents Frye's residential projects have attracted to the area.
For those interested in the new apartment projects, Frye's firm, known simply as Union Hill, will be conducting an open house from 11 a.m. to 3 p.m. Saturday at the Campbell Building, where occupancy has already begun. Frye said the chef from The Drop Bar and Bistro at 409 E. 31st St. in Martini Corner will be preparing a "demonstration brunch" in the kitchen of one of the two furnished models in the Campbell Building.
The chef literally will be cooking with gas, Frye said, because gas ranges are one of the extras he has spent extra dollars to add to the Founders Phase apartment units.
"You won't find walk-in pantries in a micro unit," Fry added during a tour of the Campbell Building on Thursday.
Frye said there's room for a variety of product in the greater downtown multifamily market, including the new 350- to 500-square foot micro units being introduced. But he opted for larger units at Union Hill because they are more conducive to long-term residency, which supports the entire neighborhood feel.
The Campbell Building units range from 893-square-foot one-bedroom units that rent for $1,400 a month to 1,472-square-foot two-bedroom, two-bath units with dens that rent for $2,035.
The McCoy Building, which will open for occupancy in September or October, will include units ranging from 585-square-foot studios that rent for $890 to 1,200-square-foot two-bedroom, two-bath units that rent for $1,585.
The rents in both buildings include one structure parking space per unit, and additional spaces are available for $75 per undesignated space or $90 per designated space.
Read the rest of the article here….
Contact Orenda Real Estate Services
For more information on the Kansas City Real Estate Market, or to learn more about how you can increase the value of your investment property, contact us today by calling (816) 355-4242 or CLICK HERE to connect with us online.
https://orendarealestate.com/wp-content/uploads/2016/08/img7337-600xx3487-2615-218-0.jpg
449
600
orendarealestate
https://orendarealestate.com/wp-content/uploads/2016/08/000329-Orenda-Real-Estate-Services-Logo-FINAL-colour_png_S-300x215.png
orendarealestate
2016-08-22 08:44:11
2016-08-22 10:09:35
New Apartments Wrap Up 30 Years of Union Hill Redevelopment